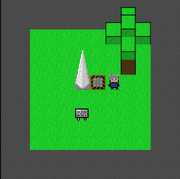 The town known as 79 began in 2013, created by abt79. It was built to give new players a place to call home and to help in the constant war on Game Reviewers.
Location
[
]
79 is located just south of the town Lux Astri by StarXStone around (238,182).
Alliances
[
]
None. 
Citizens
[
]
The War
[
]
Around the year of the town's creation abt79 and his fellow 8bit warriors declared an all out war game reviewers and their more powerful dire friends. Realizing that not only were they a considerable threat to the citizens of the land, but also that they gave the most gold of any enemy, this band of vigilantes explored the new map, this long run on sentence and kjh's zoo to kill these offbeat foes and gain gold and glory. 79 was an important stronghold in this fight. Soon, however, Sim9, the guardian of the world of 8bitmmo, opened a portal to an entire separate dimension filled with the evil game reviewers. Colonizing began in the new world, but a new fight had to be fought to keep them safe...