Minigames are by far the best thing to do if you are bored in this game. If you would like to know about these so called Minigames, then you are welcome to read and edit this page.
Catagory 1: Spleef! The original. Sub-Category of Versus Category.
If you like to play spleef in minecraft and such, this is also much like spleef, so i suppose you would like it! Here is the thing; it is rarely hosted; as best hoster: kjh787 has quit (this is what i think.) You are lucky if you get into a spleef arena, it is very rare to get inside. But this minigame involves around destroying blocks to drown your enemies/friends. It is very fun! Doorspleef is for beginners; also people may use 9bitmmo to spleef way far away from them! It is located at /tele spleef, and a other variety of places.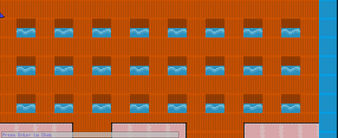 Doorspleef!
Now, i personally (zone115) have never experienced getting even near close to winning; but this is for beginners in my case; as 9bitmmo is not needed to have a certain advantage. I personally think that doorspleef is very unfair, but that is just me. (Who caked the arena?) It is located at /tele door, but also in a other variety of places.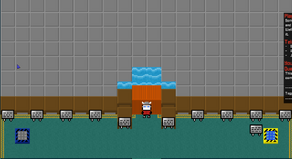 Floof!
This is a fun version of Spleef. It involves running around activating fake floors to drown other people and win a prize. It is located at /tele fake.

Catagory #2: C H A L L E N G E C A T A G O R Y
Don't throw a fit! The first one is roll of fate. This is personally my favorite minigame; hooray! Roll of fate is very fun as a challenge game. The rules are: There is a roller, the host. For example, he rolls a 4 - 2. Imagine a grid, 6x6. The host would drop a spike or tall block (Depending on host.) to trap/kill the person standing there. He is now out. The host would do this until everyone is out! Its very simple; have quick reactions to dodge! It is commonly hosted when a host is online and ready to host. Located at /tele roll, but also in another variety of places, with a variety of other variants, such as Mystery Rolls.
To add more to this category.
Category #2: V e R S u S CATEGORY!
Now; remember: Don't throw a fit!
Sub-Categories:
Spleef!, there are no other Sub-Categories.
The category Spleef! is the only Sub-Category on this category. Please add more; as i know there are tons of creative versus minigames out there!
I have listed most basic minigames; we need your help adding more!