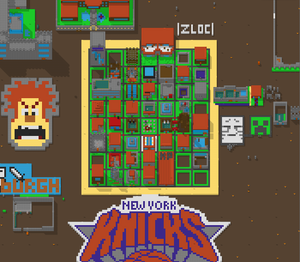 Welcome to the page of Newburgh. This town was created for the benefits of new player, willing to join a  town at first play. This town has been expanded twice, with a large plot system using 9x9 plots. Roads are 1 block wide and the towns sides are covered with sand for some protection. There are rules that apply to this town as in:
Not to build house, structure, etc at more than the height of 32 (The next bullet explains more)
Your structure is to not block homes/plots behind, infront or besides you. 
Do not place items out of the town Newburgh unless it is a total of 176 blocks away. 
Do not troll the town of Newburgh. If so, you and your home will be deleted PERMANENTLY out of the town with no negotiation. 
Citizens must only have one plot in use, unless asking and the mayor a total of 250g. If you do not obey, the structure you are building in the additional plot will be removed with no further notice.
The location of the town is _____ , or east of Noobingham [of Grim Master Death], directly left of Ajax Bay [of Meep42], directly south of Ponyville [of Trololo] (demolished) or directly south east of Example [of Sim9]. I am willing that with this town, the incoming players or as I call them, Newblets, will be familiar more with the 8bitmmo's inputs, culture, and other players. I hope that with Newburgh, more players will stay and continue playing this indie game, instead of doing the unknown. Have fun in the town of Newburgh, as it is currently very popular and filled with hilarious, and entertaining plots and games such as PvP and PvE. Beyond the sands of Newburgh, there are spectacular fan arts and buildings for your pleasure. To join the town of Newburgh, contact your mayor Zloc6 for more information.