Well, I decided I am going to start writing an 8bitmmo journal here on the wiki. I doubt anyone will read this, but I will one day look back through it, and see what I have accomplished. This journal is not starting at the beginning of when I joined.... that's way too freakin long ago to remember lol. It will be me typing what's going on throughout the day ;P
Anyways, today I have started out with some wiki edits, assisted by pikachu789. We have been trying to add some more items. Other than that, I am going to work on my newest project "project spectrum". I got some good work on it done yesterday... But it's so expensive. Maybe I can convince some people to donate at /tele spectrum. I need to try and get some people to help me build too... Hmm this is gonna be a massive project.
Wifi has been unstable... that's gonna make it difficult to do my project...
Wifi was working better, and I won 2/2 races on shcky's raceway. I got a safe, and a +250 block!
Started getting porter7 and Value to build houses in Spectrum. This will be interesting :P
Ended up with Sage and pikachu789 building now. Pika made a little cave in blue/green and sage is making a small pyramid! Spectrum is gonna look so cool when it's done!
Also, did some trading with erijon3 and got 18p in items for only 11k gold! (611g per plat!!!)
Later I got even more people showing up!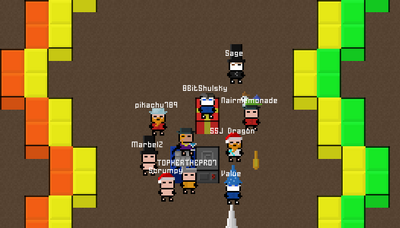 Today was pretty cool. ~setk~
Community content is available under
CC-BY-SA
unless otherwise noted.