Ok. Technically, this has been over 3 days.. let's just imagine it's only 1 day :P
So I got marbelz while he was building something for me. He didn't even KNOW he was a target. Talk about bad leadership, not telling your clan that you were having a war!
Meanwhile, sapph got bumchin, so now only Kalaris and Terranova are left.
Kalaris tried to get me by having me porter7 tell me to do /towntele porter7 which was actually cats creed's base in disguise... They didn't get me! Kalaris forgot to remove me as a citizen... big mistake >:)
I spiked his townstone muhahahaha! Sapph went and removed it later though lol
Meanwhile, there has been some more progress in spectrum. It's really starting to look nice.
I wonder how long it will be before it is finished... Hopefully in time for the next map.
Password doors and 5 new shirts were added. I like the purple shirt and the Tropical Shirt. The 25,000g wave shirt is so boring...
Because of these new shirts, I have began a quest... to make a huge wiki page on clothing. It's gonna take quite a while...
And probably my favourite part of today (yeah i know, 3 days, think of it as 1 day still) was beta's offline plat shop, which can be used online too.
I like putting things up for sale there. It feels nice, and because sellers can compare prices, plat prices go down a bit from competition, and with wavy prices, you can actually manage to buy low and sell high. Not everything is set in stone at 1k per plat. Also, who doesn't love the feeling of opening a feedoor with lots of money!
Before the end of this day, I snagged one of the best deals. Blackjack offered me 3 laser turrets for 3 small public boxes. 15p for only 3p!
Probably my proudest achievement in a long time, is that I finally finished /tele egg!!!                                    It now is filled with each egg type!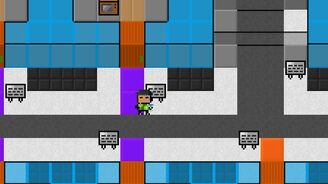 I wonder what will happen this easter?
~setk
Community content is available under
CC-BY-SA
unless otherwise noted.